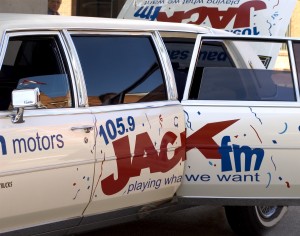 It's a problem with tuning when all you have
is an old push-button radio; you're always
just between stations, pudgy fingers poking
the tabs hoping to land in a clear channel:
somewhere between radiate and ratiocinate
somewhere between courses on a first date
somewhere between recall and playback
somewhere between forestall and call back
somewhere between first nights and first fights
somewhere between last call and last night
somewhere between the have her and hold her
somewhere between the smother and smolder
somewhere between the meeting or melting
somewhere between petting and pelting
somewhere between to linger and to mend her
somewhere between the cinder or send her
we lose the top-ten hit that was just playing,
asleep at the switches knowing we are not
the only ones affected by the white noise
coming through the speakers in the back
where we would have use one word or another
that belonged to someone else in a song:
"I'm just a hunka-hunka. . ."
(white noise)
"I'd stop the world and. . ."
(white noise)
"We light the morning sky" by blowing
on the embers, hoping there is a enough
in the ash pan to rekindle the flame upon
which we will put our heart on the hit line
broadcasting to the world that we are in love.
Up on a hill, a red light flashes sending out signals
something lost in the translation from faulting tuning.