It begins with this flyer being passed out at NCTE 2015. The person passing these out is none other than E. E. Charlton-Trujillo. I have kept this author's book on Room 407's shelves since reading the Advance Reader's Copy of this book at NCTE Las Vegas.
If someone only knew that I have been interacting with the author for the past three years since.
In following this author, I have been aware of the special project she was undertaking a couple of summers ago. What began as a Kickstarter project has now come to fruition as a beautiful documentary that I got to see while here in Minneapolis.
If someone only knew what a labor of love it must be for authors like Charlton-Trujillo to write books for our young adult readers. Books that speak to the heart of what it means to be a teen. . .for all of its brashness. . .for all of its bravado. . .for all of its beauty.
This is the St. Anthony's Main Theater in Minneapolis where the featured authors from the documentary and eductators met together to view the film.
If someone only knew that these kinds of meetings between authors who write books for teens and the educators who share them with those teens in the classrooms are a kind of summit.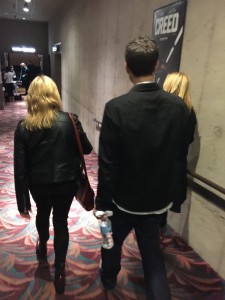 This is Ellen Hopkins, Matt de la Pena, and A.S. King walking into the theater reserved for all of us to view AT-RISK SUMMER together. I have enjoyed a long-term "friendship/connection" with the three authors here. To have their books in the classroom has assisted me in making powerful matches between great young adult titles and Room 210/Room 407 readers. Their names are so familiar to me when I see them in typeset on the social media threads, I actually see their names in my mind on the covers of their books that have hleped me to make these matches.  And what a night to be able to share a new "text" together tonight. While featured in the documentary, it was the first time to view the film for author and educator alike.
If someone only knew how powerful it can be when everyone in the room "reads in the dark" the same film for the first time. No one knew what scene was coming next. No one was braced beforehand for the scene in the documentary that would have us all cheering. Would have us all reflecting. Would have us all sharing with one another during the reception held after the screening.
Shown before the crowds would come in to see the new HUNGER If GAMES installment, we were all there to see that the hunger to share one's story is no game at all. The stakes are just to high. There's so much to lose under the prospect of loosing one's personal narrative into the room for all to see and all to hear.
If someone only knew that this film is a "text." It captures Charlton-Trujillo's own personal journey as she toured her book and found herself on a quest to the hearts and minds of the at-risk kids she would meet in non-traditional schools, community programs, and juvenile detention centers. We got to see how powerful a invitation to write can be with the person inviting is offering respect vs. waving a rubric. In each installment, with the simple prompt "If Someone Only Knew. . ." written on the board, we all got to see students settling in to write the narrative that had been in draft mode for too long.
If someone only knew. . .this film is not about some other school, some other program, some other facility. These are not "their kids." These are not Charlton-Trujillo's kids.
If someone only knew. . .these are OUR kids. The at-risk summer featured in Charlton-Trujillo's documentary becomes the at-risk first marking period which gives way to the at-risk school year that gives way to another. . .and another. . .and another. . .with too many untold stories. To many opportunities to write and explore left to wither and expire.
We can let everyone know. . .AT-RISK SUMMER is a powerful project become poignant picture. We were encouraged tonight to hear that Charlton-Trujillo's project will come with resources teachers across the country will be able to use in conjunction with the documentary. We were encouraged to know that the project has spawned an initiative, NEVER COUNTED OUT, which, once completely realized will potentially pair artists of all types with "our kids." Our nation's kids.
If Someone Only Knew. . .when they are a part of something to precious as the privilege of being a mentor to these young people who walk into our classrooms day after day, they would be excited to know that a film like AT-RISK SUMMER is coming to them soon as a means of bringing to light everything we might be missing when we don't invite our young people to use their voice to tell their story.
AT-RISK SUMMER is a chance to consider possibilities. These possibilities can change an approach. Change a practice. Change lives.
Before this evening, I was among the "Someones not knowing." And now that I know AT-RISK SUMMER, you'll be seeing and hearing me share more and more about this powerful film and the beautiful heart and soul of the young adult author I want YOU all to know.
E.E. Charlton-Trujillo. Before this evening, I was a someone. You invited me to see your film so I could "know." And when you invited us to share out in regard to the film, there was no "if" I would share.
There was a now.