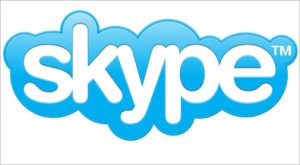 Find more photos like this on RAW INK Online
For the past two and a half years, we have used the Ning operating system to host RAW INK Online, wherein Juniors at Silver Creek High School can interact with young adult authors (Amy Fellner Dominy ((OyMG May 2011)) is the latest to join the network), post their blogs, catch up with class activities, or post projects such as the new One Book/Four Hands literacy initiative. The relationships we are able to enter into, and foster, with young adult authors opens up opportunities to for writers and readers to interact. Sometimes these interactions happen via the chat feature at RAW INK Online. As readers may have read from Monday's post, students can also message our young adult author guests (to date, RAW INK Online hosts some 80 young adult authors). Still another way to interact with authors is the use of Skype.
Our first Skype interaction came in the fall of 2009 after the AP English Language and Composition class read Garth Stein's The Art of Racing in the Rain. Garth helped us to set up this interaction which saw all 50 of the AP English Language and Composition students sharing in this interaction wherein Garth not only talked about the book that the students had read but about the writing life style as well. What's more, Garth was able to share, very early, that the book the students had read was being made into a film to be released in 2012 starring Patrick Dempsey. Here, Kayla Pinkston, now a Silver Creek High School alum, asks a question of Garth Stein:
Find more photos like this on RAW INK Online
We truly believed ourselves to be mavericks on this special day, being one of the first classrooms in our school district to not only host a Skype interaction but do so with a published author of a book that was, and continues to be, very popular with readers. The value of this interaction between readers and author is inestimable. Students walked away with an understanding of the author's intent and the author's process behind a work they had all shared.
Well, once we caught the Skype bug and saw some success, we just had to have more. Within the next month, we hosted a Skype interaction with Jennifer Brown whose young adult title, The Hate List was just picking up steam. Not as many students had read this book, but Jennifer was able to point the discussion to the issue of bullying, a subject that drives the events in Hate List. This led to a lively discussion that became an impromptu lesson, from a young adult author's perspective, on a subject with which our young people are all too familiar. Our continued relationship with Jennifer, and her openness to posting to RAW INK Online about writing subjects, make us very excited for her new release later this spring, Bitter End (there is a surprise in this book that I don't want to ruin for my Room 210 Readers, but let's just say Mr. Hankins is tickled pink over something that happens on page 232).
We took time one day to call good friend and writing mentor to many, Barry Lane. Barry was able to interact with our students, and during this visit, Barry would invite the students to write to a prompt, disconnect for a few minutes, and then come back to share out the student writing. This is the best example, from our experience, of how a Skype guest can potentially become a kind of co-teacher in a writing workshop setting.
A Skype interaction with Jon Skovron found Room 210 Readers chatting, in real time, with a most energetic, up-and-coming young adult author. Jon's animated personality and our behind-the-scenes attempt at book giveaway magic caused students to ask, "How did they do that?" Five students walked away with Advanced Reader Copies of his work, Struts and Frets.
Later in the school year, we were able to host a Skype interaction with Robert Lipsyte whose experience in young adult literature go all the way back to The Contender. This was an interesting interaction in that Robert had not Skyped prior to this interaction, but once we got beyond the initial trial and error of connection, Robert was able to keep a group of fifteen students completely enthralled, not only talking about his highly recognizable titles but sharing his experiences within sports. Robert shared, from a perspective that can only come from one who was there, the night Muhammad Ali became a champion, the death of Dale Earnhardt Sr., and the night Brett Favre lit up a Monday Night Football scoreboard shortly after the death of his father. When I think of how this interaction would never have been possible without Skype, I feel I can confidently speak to the power of this platform for fostering interactions between students and authors.
This year, Room 210 Readers have had the opportunity to interact with Tom Angleberger, author of The Strange Case of the Origami Yoda. Tom really played up the interaction, opting to put a painting of an woodland scene behind him to give the feeling that he was outdoors. His insight into the adolescent experience coupled with his discussion of the Yoda book was well received by the students in attendance. As with other interactions we have had, Tom was able to share a new release, which is due to be released this spring, Horton Halfpott (my teacher friends, you will NOT want to miss this title–take this as Mr. Hankins' highest recommendation).
When I return to Room 210 from my current billet (I am doing a school visit right now), we are most excited to host Jeni Stepanek, mother of Mattie J. T. Stepanek. Having shared Mattie's work with the Room 210 Readers, this interaction will, without a doubt, be most powerful. Room 210 will be at capacity as Jeni shares from her experiences with Mattie and how his legacy of peace continues on through a foundation named after him and grounded in his journey of the heart that he shared with us via his Heartsong titles.
Kate Messner wrote about our experiences in her School Library Journal entry, "An Author in Every Classroom: Kids Connecting with Authors Via Skype. It's the Next Best Thing to Being There." Room 210 Readers and their lead learner were thrilled to be showcased in Kate's post and her work with authors and Skype, via the Skype an Author network, continues to attract teachers to the possibility of connecting their readers to the authors they are reading. Kate offers excellent advice for teachers/educators who want to use Skype within their learning communities.
And while this post has become a showcase for what we have done in Room 210, I want readers to walk away with the excitement that we have for this interactive platform. The opportunity to bring authors and readers together is worth the time and effort to foster relationships with authors. It is certainly worth instructional time to invite authors into the classroom. Believe Mr. Hankins, the hype is well-deserved. The right author and the right interaction will really up your street credibility with those readers in the room.