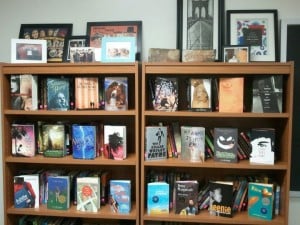 Over the winter break, I had an interesting conversation with my good friend and mentor, Teri Lesesne. As often happens within these interactions, our thoughts and comments come right around to books. But, for both of us, it takes little time for that discussion to turn from books to readers.
In this discussion, I posed some questions that I was thinking about–some inquiries that have been sitting heavy on my heart for the first half of the school year.
Friends, it strikes me that what is on our minds and within our hearts finds its way into our practice.
Doesn't it?
Here are the questions I posed to Teri. . .and now. . .having seen her blog posts over the past two days (Intention-al and Intention-al II) I am struck by how Teri picked up upon questions I had meant to ask and to answer for myself.
Well, perhaps I should try to do just that. Here are the questions we posed during the discusssion:
"What do I mean when I say I love young people's literature?"
"What do I need to do to replicate the way I come to books and understand books and retain narrative for my readers in the room?"
"What can I do to get into the ear of the powers that be to make sure more quality titles from this demographic are included on "official" reading lists?"
"What might ONE YEAR of independent reading look like for a student?"
When I think back to the successes we have had in Room 210 and Room 407 in connecting readers with books and readers with authors, I think. . .we are doing this. Stay the course.
So, why when I look at the shares at Facebook and Twitter to I find myself thinking, "Wait. We aren't doing _________. Should we be doing _____________?" And this is where an inquiring, seeking mind will get one in trouble as much as one that is not inquiring or seeking.
So I am taking whatever successes and I am calling them "feats." The approaches and interventions already in place must be "feats" or everyone would be doing it. We wouldn't have to consider the needs of our readers because they would already be actively reading. I think it is a good idea to put our "feats" to the fire to see what they are really made of. . .
Like Teri, I think I will take a question at a time. To try to think through each question a little bit while looking through a "I think I am doing this, but __________" kind of frame. We'll keep these answers short so as not to take up too much of your time so that you can consider our invitation that comes along with this post.
It's funny. . .when we frame our thinking we can sometimes miss the bigger picture. The portrait that could be.
So. . .what do I mean when I say, "I love Young Adult literature?"
*I am considering the kinds of stories written to and for the demographic of readers that members of my learning community this year."
*I try to stay current in my awareness of Middle Grade and Young Adult literature. I may not get to all of the titles, but I will be aware of them.
*I am increasingly aware of Middle Grade and Young Adult literature by the company I keep by way of personal contacts and those in the digital spaces (really–they are one of the same). If I want my readers in Room 407 to be a part of a reading community then I need to be a member of a reading community. Not just the one in the room, but the larger community as I am liaison for my readers.
*I seek out opportunities to serve in Middle Grade and Young Adult literature organizations like ALAN. I serve on reading committees like the Amelia Elizabeth Walden Award Committee through ALAN.
*I present on topics related to Middle Grade and Young Adult literature locally, regionally, statewide, and nationally. This is not to show what I know, but to clarify my own practice as I share.
*I participate in on-going forums like #TitleTalk (with Donalyn Miller and Colby Sharp). I read–and sometimes post–at Nerdy Book Club. I know the times for #kidlitchat, #mglitchat, and #yalitchat.
*I maintain a contact with the young adult authors who avail themselves to our readers. I am indebted to so many authors who have become dear friends of mine and our classroom. This hasn't been too hard to do. It's taken some time. I still remember when someone asked me if I contact authors through their agents. I had thought I had been doing something wrong. No. I contact them via social media platforms. I talk to them at conferences. We've been doing this for some time. It takes time. We do it.
*I keep Middle Grade AND Young Adult Literature in the room. Our classroom library may not be as extensive as others we see at Facebook and Twitter, but we have a respectable collection (then again, it's so hard to tell at this point in the year–so many books are out with readers).
*I encourage pairings and "ladderings" of Middle Grade and Young Adult literature with those found on traditional reading lists.
*I often celebrate Middle Grade and Young Adult literature of its own merit and then share that one book all by itself.
*I get excited when new titles release (I'm looking at you today, Laurie Halse Anderson).
*I share titles with my readers regularly.
*I lose books every year.
*I blog about Middle Grade and Young Adult literature.
*I put in the time.
I–along with my friend Teri, would like to invite our guests to think about these questions and to pose some questions of your own. Feel free to link to my Facebook Wall or find me at Twitter (@PaulWHankins).
Good reading, friends.
For return guests, I'd like to submit. . .this post came in under 1000 words.
Just under, actually.
This is quite a feat (999).