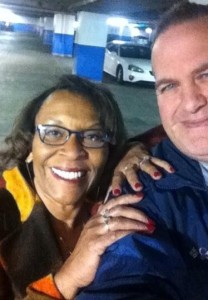 This is Sharon Draper. You may know her from her long list of popular young adult titles. Perhaps you have read her New York Times Bestseller (it's spent a year on this list), OUT OF MY MIND. Perhaps, like me, you were first introduced to Sharon Draper's work in a middle grade or young adult literature survey course and you read TEARS OF A TIGER and the companion books after you were hooked by this one. In this picture, Sharon is trying to pull me a little lower, "You're so tall," she says.
A month or two ago, Sharon contacted me to let me know that she had a number of young adult titles that she had been reading during her appointment to the National Book Award committee. She was wondering how we might get those books to my Room 407 Readers. We batted it back and forth in Facebook messages eventually moving to the more personal email to make this connection happen. We finally came upon Sharon's upcoming visit to the Kentucky Reading Association, a perfect opportunity to meet as I am only a twelve minute, door-to-door commute from Hankins Ranch to the historic Galt House in Louisville.
As the day approached, we traded emails once again to coordinate our meeting time. My stomach was all a-flutter. Here's the thing. I have seen Sharon Draper a number of times in passing at national conferences. Either passing in the hallway or catching a glimpse of her in a signing booth thinking, "THAT'S Sharon Draper." But, now, I would be meeting her face-to-face. No conference as catalyst. I'm going to meet Sharon Draper. We've all had these moments, haven't we?
When I arrived at the Galt House, Sharon came down to meet me, but if you've never been to the Galt House with its two towers separated by the end of the very busy 4th Street, meeting anyone in one spot can be tricky indeed, especially when the Riverboat Festival is in full-float. I couldn't stay parked on the street, so Sharon jumped into my Expedition (Noah and Maddie are aware that the family vehicle has been transport to super authors and educators like Donalyn Miller, Barry Lane, Penny Kittle, Jeff Anderson, Terry Thompson, and super educators like Teresa Bunner, Kelly Vorhis, and Jillian Heise). Sharon Draper is riding in my vehicle. I hadn't vacuumed. And Sharon was gracious to not have noted this.
Now, we are on the first level of the Galt House parking garage. This is like something out of the opening scenes of a Police Academy movie. We are the only ones parked together as we make the exchange of over a hundred young adult titles published in 2014. After I have loaded the nine boxes into the Expedition, I ask Sharon what she is working on at the moment. And this is when Sharon reached into her traveling case to pull out what looks to be an advanced reader copy of something. Sharon doubled over and laughed, clutching her book to her chest as she recognized my primal reaction to anything new and bookish. I literally went to grab the book out of Sharon's hands.
Don't judge me. You would have. You would have probably used the maze-like structure of the parking garage to make your get-away.
Before handing the book to me, Sharon had something to say about this new book. I'm holding it in my hands at this point and I can feel the newness of it all. The pages. The story. The book. Sharon has granted her permission for me to talk about STELLA BY STARLIGHT.
And I am going to talk about STELLA BY STARLIGHT from a first person point of view. This is a unique and trusted position into which Sharon has placed me as one of the first persons to have read the galley of the galley.
Sharon tells me that the book is a "gift." And she says it in a way that I get her multiple meanings. The book is a gift some thirty years in the making. Back in 1983, Sharon was given the one remaining journal that belonged to her grandmother, Estella Mills. If you follow Sharon at Facebook, you will note her full name Sharon Mills Draper. On the covers of her books, you see this as Sharon M. Draper. ESTELLA BY STARLIGHT is a means of brining to light that "silent M" that has appeared on a number of treasured titles.
Sharon has carried that journal like a treasure. As she is handing me this new book, I sense that I am now carrying a part of that journal. I am holding something special. This is not just an ARC I've picked up in the booth. This is something that has been passed over a span of thirty years. . .eighty years. In one moment, we have shared a history. A gift. A charge.
Sharon tells me that she respects my opinion in regard to young adult literature. And I am glad of the atmosphere in which we are standing. She cannot see me blush in the half-light provided by the dome lights of the parking garage. I tell her that I will probably read the book later that day, and she repeats the word "gift." The gift of my reading her book. The gift of my sharing her book.
And I read STELLA BY STARLIGHT. Starting at about five o'clock and staying with Stella until eight o'clock. I've been down by the river. I've been to the store. I've been to the polling place. I've been at the dinner table. I've been at the bedside. I have been to all of the places of this "gift" peeling back a corner here, a corner there, untying the threaded ribbon of a storyline through this "gift."
Let's do what I often do with new books and draw some notable comparisons of STELLA BY STARLIGHT to other well-known works. By doing this, I hope to draw you to STELLA BY STARLIGHT by way of what I connected to as I read. As much as the book has been inspired by Sharon's grandmother, the new book is a fictional account drawn from that journal. There are vignettes of community members gathering about on a porch to share examples of what we might call "the dozens," playful one-liners designed to bring the reader into a sense of community with the characters.  This is very much like Zora Neale Hurston's THEIR EYES WERE WATCHING GOD as we catch glimpses of the human interactions that make the characters feel like persons with whom we might trade barbs. As Stella reads the newspaper clippings, and we get a glimpse into the interests expressed and collected by this main character, we are getting a history lesson in 1932. Reading "ladders" and connections abound here. And, I don't want to give away too much of the story, but an anecdote shared by the teacher, Mrs. Grayson, will have lead learners grabbing–or at least looking for–Virginia Hamilton's 1985  Corretta Scott King Award-Winning, THE PEOPLE COULD FLY.
Sharon's new title explores a difficult subject in balancing the terrorism of the Ku Klux Klan and the internal drive of the black man to want to cast his vote in a presidential election. The tension between the domestic and democratic is at play in  STELLA BY STARLIGHT and Sharon creates a wonderful bridge across this tension with a main character who appreciates the cadence of The Pledge of Allegiance and can recite the beginnings of the Declaration of Independence (a rote skill learned in a one-room school house under the guidance of a lead learner who will make teachers stand up and cheer for the representation provided by Mrs. Grayson).
Anyone who knows my work will know I am given to follow a hero's journey type of schema as I read. STELLA BY STARLIGHT hits all of the markers in a manner by which we will all be talking about "dragons" real and imagined. Stella Mills is a plucky hero with fallible guides and a quest we can all share, readers, writers, teachers, and students alike. And you won't want to miss a cameo character in "the Spoon Man" who appears to peddle his wares, but leaves the reader with the first story that demonstrates the deep love between Stella and her mother.
Readers will see Stella struggle with the writing process throughout the book and this will make an excellent talking point during and after reading the work. Mr. Hankins suggests that STELLA BY STARLIGHT be read aloud to students to capture the pace and prosody of the narrative and Stella's attempts at rendering elements of narrative into her own prose. But the encouragement that Stella receives from her teacher, her family, and her special friend, Tony can serve as a model for the kind of encouragement our own young writers might enjoy.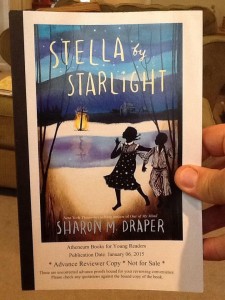 Yes. STELLA BY STARLIGHT is indeed a gift. And it will be a gift that keeps on giving by way of exploration, by way of exposition, and by way of explaining through the importance of recognizing and carrying forth a charge.
"You're so tall. . ." she says.
Sharon. . .we all stand a little taller when we are affirmed by the authors we read and the authors we love. In real life–when you are not sharing your work with me before the rest of the reading world–we are actually the same height. But, we stand upon the memories, the experiences. . .the reading we have done and the writing we have attempted and the charges that come to us to continue to doing both.