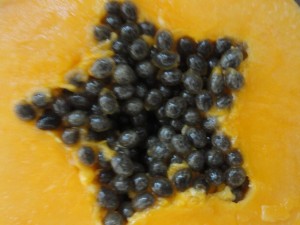 If you've never seen the inside of a papaya, you've never experienced how the seeds sit so close together. In a lump. A mass. A sticky bond so easily scooped out and left behind in the preparation of the sweet, orange flesh of the fruit.
And if you've never seen a papaya in the first place, then the whole of this analogy would be lost, wouldn't it? This is exactly what we ran up against this week in Room 407 as we begun reading Thainha Lai's 2011 National Book Award Winner, INSIDE OUT & BACK AGAIN. While introducing the "signposts for fiction" introduced by Kylene Beers and Robert Probst, our readers noted that Ha, the narrator of the book, mentions papaya. . .again and again.
After polling the three sections of English 11 I lead over a two-day period, I noted that 95% or more of my students had never seen a papaya. Could not describe one. Could not describe what one might smell like or taste like. This is the kind of informal assessment that might get missed on and within most value-added evaluation tools.
Pior knowledge of a potential symbol was lacking. It would continue to be missed  unless the lead learner in the room intervened. As I tripped through the local supermarket, I thought to myself, "This is exactly what a teacher at the elementary level would do. This is totally what a world language teacher would do by way of introducing culture and cultural artifact." And I thought, "If I am to continue teaching something called English Language ARTS, I cannot continue to overlook how the culinary arts work within the framework. After all, isn't it Foster who tells us that no meal referenced within a piece of literature is a form of communion?
Now, I don't know if this appreciation of culinary allusion and culinary arts will see us eating beans with ketcup during our reading of OF MICE AND MEN later this year. But it might. I DO know that by way of reading the room and recognizing that something was missing is a form of informal assessment for which I was responsible. And, having read Tom Newkirk's new views regarding assessment, I knew that this was something I would want to capture by putting it down on paper, in a blog, somewhere I could look it later for what it all meant.
Newkirk has pigs. I have papayas. I sense our differences may be more vast than this, but it's a starting point. And alliterative as a bonus.
As my readers reviewed The Hero's Journey, using the hand-made maps and cards I created for them earlier in the week, I stood at the end of the work area and sliced papayas on a cutting board. I had a new knife, cutting board, and these cute little plastic tasting forks that had the teens excited. You want to get teens excited? Show them anything in cute, plastic, "mini" form. It's like Muppet Babies for this new  generation.
You might be wondering about the 5% who did know about papaya. Let me describe them for you as you might have students like mine in your class. They look to be Latino. Their English may vary by way of proficiency. Something they call "levels (I didn't name this–you know how I feel about levels). They knew about papaya.
Talking with a couple of them, they told me they buy them. They like them (two of the boys helped me to "clean up" what we had left over in a moment of what one might call "gluttony" if they have never seen a teenage boy eat). But one young lady. . .didn't like the way I was cutting papaya. This is the same young lady who corrected by Hero's Journey cards ("la regress" became "la regreso" ((we had a chuckle here about who was "professor" and who was "professora)). The best way to describe her look at my profiency of preparation is to suggest that my head had become a papaya sticking out of my neck green with no hope of ripening.
What do you do when you know that you must defer expertise in shich a simple task to the true expert? Do we understand approximation in this way?
You trust in what you instinctually know. A professor once told me, "to the exent that we may never know, we are all the product of what someone else thought was the right thing to do." Consulting with my aides, I thought the best thing to do was to let this young lady help me prepare papaya. I handed her the knife. . .and she went to work.
This young lady. I have watched her to be pulled out from a number of rooms to work with her small group. This small group of seeds that I am just getting to know this year. I speak little to no Spanish–my conversational Spanish is limited to what I pick up from the culture at large and my exposure to Villa Allegre and Sesame Street and The Electric Company as a kid.
But I know how to offer an opportunity.
The young lady took the knife carefully and began to turn the fruit. Her slices of peeling were translucent (I held one up to the light above). I couldn't believe it. She neatly separated seeds from fruit and sliced uniform chunks of papaya for everyone to try. All the while her attention to the task never wavered and I got to see her in a whole new light. The other members of her small group had gathered around to watch her do this task for "professor." She was demonstrating prior knowledge. Residential expertise.
When her group begins to read INSIDE OUT & BACK AGAIN, I have little doubt that this moment will be a part of the prior knowledge schema brought to the text.
Do you know that there are as many ways to say, "Good job!" and "Excellent!" in Spanish as there are in English. I need to find more because all I had at the moment was "muy bien."
At the end of the year, someone might ask me about her "level of understanding." I might have to say, "I can speak professionally to her proficiency."
And I might add: "I can speak, personally, to a moment wherein she were proud."
It's a new school year for so many of you. Bring seeds. Find seeds. Share seeds. Plant seeds.
Look for something in the language and the literature so simple that everyone is missing it.
And then show it to them.