I have to admit, I find this first image just a little TOO literal. The book is simply floating on that back piece of poster board which will eventually carry the remix of Daniel Miyares's Float. My friend, Donalyn Miller, tells me–and tells us–that literacy floats on a sea of talk. I'd like to talk about Float, a book that appears on my Mock Caldecott lists at the end of 2015 poised for celebration during January's ALA Midwinter meeting, and what it means/meant to have cut it up on a Saturday afternoon.
Daniel Miyares's picture book tells the tale of a young boy and his paper boat wordlessly through a book that is so beautiful to hold. Take the dust jacket off and look at the case for a moment. There is nothing accidental in the execution of this book from the thicker paper pages to the panels that carry the observer through the story of a rainstorm, the loss of a boat, the grief process, and the coming back again to the sense of playful risk that leads us to water or inspires us to look to the skies. It's a gorgeous book.
Float. It's a book we've loved this year, isn't it? And it comes as no surprise that the immediate reaction to my posting a picture of any picture book with a pair of scissors still draws a mixed reaction from social media. From the "NOOOOOOO!" cried from some part of the country to the celebratory "Cut! Cut! Cut! Cut!" from the illustrator, himself.
But isn't this the condition of any work we put before a reader that may not have the background knowledge or the requisite skills to navigate a piece–any piece–of text? It "floats" upon a sea of black. Darkness. The story sits against a sort of nothingness. And for those who still recoil when they hear that I cut apart picture books, don't think that I haven't sat in an English class or two to witness the cutting apart of a piece of prose to get to those "blue curtains" (thank you, Gae, for the funny tweet this week; I've seen that Venn Diagram a hundred times and I still giggle over it when it pops up in my feed or stream).
And this is the potential power of wordless picture books. With the "remixing" approach, I can deconstruct the narrative without the words acting as current against my sailing across the story to bring it back to shore anew (and that was a little poetic; I'll try not to slip into this kind of approach again). Let's look at a couple of early stages in the "remixing" process: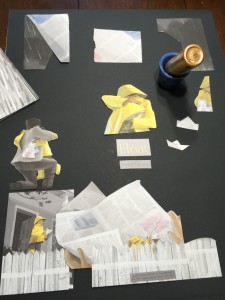 Already, I am–unconsciously and consciously–using the language of "signposts" offered by Kylene Beers and Robert Probst. Except, here I am doing it physically and non-verbally. I am giving the images back as a quiet means of sharing what I am noting. And what I am noticing. Fences play a big part in Miyares's picture book. Again and Again. They are almost as big as the paper boat itself. There are pages dedicated to the idea of pickets and gates. There are moments when our protagonist is obscured by the fence and there are moments when the shadow of his grief are given back to us against the stark white of the pickets. Contrast and Contradiction. What is obscured and what is revealed. I knew I would bring those pickets back in the remix much the same way we did every claw and tooth of Where the Wild Things Are in the early days of the remixing process.
As important as the fence which creates a boundary or a border is the moment in which our boy finds comfort in the arms of an older brother. While there are many big things that cannot always be fenced in, the surrounding arms of a caring other are a place we can all fit. This image in the bottom corner of an early stage had to be a part of the final "remix."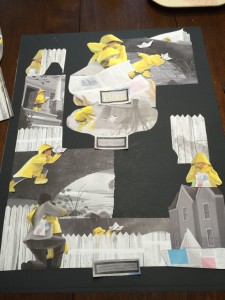 In this stage of the "remix" I am making sure that I don't miss the iconic "coin image" of the boy and his boat. When we remixed Where the Wild Things Are, I had a Facebook friend chime in to say, "Don't forget his warm dinner. That warm dinner must be a part." And I included that warm dinner because I learned something from that process. Members of a reading community remember certain qualities (note that I didn't say "detail" here) of a work that we bring back. Even when we cannot remember the characters' names within a story (and this happens often), the qualities of that character and of that work are what come out in conversation. I knew that that I didn't bring back that boy setting his boat to sail across a small body of water, it wouldn't be Float.
What do our readers bring back from the works they read in our rooms? Do they bring back the sense of the literature or do they bring back of a laundry list of what happened within the story? In "remix," I don't have the luxury of presenting dialogue and excerpts. I am bringing back the imagery in a singular panel to re-tell the story. The truth of the story must come back in the remixing of that story. And I think I was able to achieve this with Float (but more on this in a minute).
In this stage of the "remix," nothing is glued down. I like to call this the "drafting stage" of the process. Everything is movable at this point. I can cut out slots/outlines of images to make one image flow into another. With my scissors, I am creating a sort of "synthesis." Two images that did not appear within the same opening of the book are now working together to retell or to offer a capturing of the story we are working with. Note that we are grabbing whole pages from the book with the stone bridge that appears as a single opening within the original work. As a student of Campbell, I am huge appreciator of bridges and what they symbolize within a work. And our students can do this kind of work too. There is something about the feel of the image in my hands that helps it to stay in my heart and my mind in a way that text and words sometimes fail. As a visual learner, I think this is too important not to share.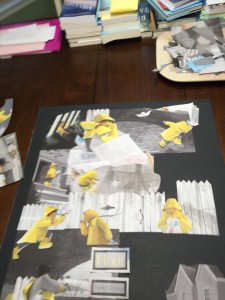 I like this image because it captures all of the reading that I have yet to do while I am engaged in spending much more time than we typically give picture books, especially those without words. At this point, I am about two hours into this text about whimsy, risk, loss, grief, comfort, and re-entry. I am just a little disappointed in myself that this book is not in the crate that has books around the theme of "tough stuff/grief and loss" and then I forgive myself because this book was actually on display in Room 407 as a visual Mock Caldecott list of my own. In this panel, I note that Miyares's has made decision with his images that goes right to the heart of what I hope to achieve with "remixing."
Ever fence picket. Every news paper page, every diagram of of how to fold a boat or a plane in the end papers "point up." I knew I wanted to capture that in a little detail in the upper right-hand corner with a news paper fold that suggests, "this story continues."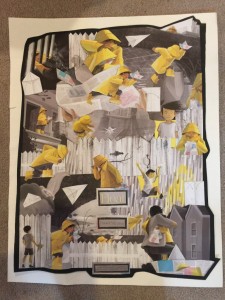 Here is the final remix of Daniel Miyares's wordless picture book, Float. For three hours, from the first cut to the last images settled–nestled–into place, our ideas as artist/reader and reader/artist were working together even though we are separated by geographical distance. Daniel shared with us a story without words and I wanted to be sure to bring that story back–in a singular panel–that captured the essence of Float, all without words.
And we were able to realize a sense of success with this remix when the illustrator came back later to Facebook to post:
I love it! it makes the small moments seem so epic! Thanks for burning down your copy of Float to make a new take. Honored.
My take away from Daniel's celebration here is that we took small moments and made them seem epic. We didn't take the small details and bring them back "essay-like." This is why I am embracing and holding onto the idea that this is the kind of work kids could be doing in ELA classes. And further, they could be done in collaboration with visual arts classes to encourage the sharing of languages that seem to lose nothing in translation as they move from paragraph to panel to pasting.
Find a picture book you love. Not the one you've had since childhood. The notion of cutting a book like that would only get in the way your ability to see your way to clicking the scissors even in the air at your treasure. Look for these in yard sales. Friends of the Library Sales. Goodwill and other resale shops. Books can be found in the places where they had become momentarily lost. We can find them again. And with a little time and a whole lot of patience. . .and a little re-arranging ("remixing") we can find something new in a story to share with our readers in the room.
I think Float is my 35th remix. I've lost count.
It's not getting old.
In fact, the idea of how these might be used in the classroom is just starting to take shape.