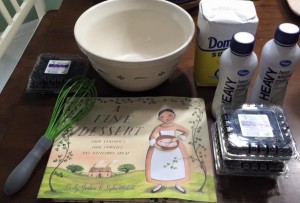 When I attended nErDcamp last summer in Parma, Michigan, I got to see my friend and nationally-recognized hero/ambassador for books, John Schumaker (Mr. Schu). He's always super busy once he hits the deck plates of a conference, so I thought to ask him very quickly, "John! What picture book do I need to see right away? Or what picture book can I not let slip off my reader radar for 2015?"
John didn't even pause to do a mental scan of the hundreds of books he must have already read by the time I asked the question. John knows that I teach secondary literature. He knows I have an interest in picture books I can use as complimentary texts in the classroom with older readers. And he knows that I appreciate great illustrations.
"A Fine Dessert!" he replied.
This was in mid-July. The book had released at the beginning of the year.
I might have seen this book later in the year, and without a doubt given the current controversy swirling around the book, I might have seen it outside of the recommendation of a trusted book person and friend.
This is how we find books, isn't it? If we don't stumble upon them on our own in in the big box stores, or by browsing bookstores, or by looking through monthly trades for new titles, we hear about them from within the reading community of which we are a part. Without trying to take a mental count, myself, I am confident that I am probably part of one of our country's largest reading communities by way of social media and conference attendance.
But here's a few things that we know about reluctant, struggling, non-readers (I like to call them "would-be" readers). They don't stumble upon them in the big box stores. And I have not found A Fine Dessert on the shelves at Meijer, Target, or Walmart. They don't find them as they browse any bookstore. They are not reading and finding books like A Fine Dessert. They are not scouring the trade publications for new titles.
They will not read 100% of the books we do not share.
We are the primary book source for many a reader who might not see any book otherwise. In our essential relationship with librarians and the extended book community, we are–in part–literature liaisons. We bring books forward. We put them in the classroom and we invite young readers to see what we are seeing.
But are we asking more of picture books today than we ever did in the past?
Are we asking the thirty-two page to be a platform. . .or a dissertation on historical context?
Have we asked the picture book to be the representative look at an era the same as we might want a tweet to serve as a summary for a political position?
Are we entrusting the care and maintenance of the reading public's understanding of history to the picture book?
Do we ask more of the intricate work that goes into illustrating a story than we do of Lego mini-figs? Have you ever seen one of these not smiling?
Are we holding the picture book to a higher level of accountability than we hold everyday discourse on the same topics?
Vicki Smith writing for Kirkus Review is one of the latest to write about the issues brought forward in A Fine Dessert in her January 4th article, "Smiling Slaves in a Post A Fine Dessert World". Andrea Davis Pinkney responded later in the week with "A Proud Slice of History," a guest post for Scholastic. Both respondents explore the swirling controversy around the depiction of a smiling slave and her child in A Fine Dessert. Pinkney explores what the response to A Fine Dessert might mean to a new picture book releasing this month, A Birthday Cake for George Washington. I am linking both of these articles here so that you might take a look at them to get a sense of the conversation that is happening around one book in advance of another.
And this is where I will take a turn. A Fine Dessert is a fine book. From a beautiful case enveloping wonderful end papers, story and illustrations to the satisfying feel of the dust jacket, A Fine Dessert is a fine, fine book. And it is no mistake that I use the phrase, "fine, fine."
As a veteran of the United States Navy (Hospital Corpsman Third Class), I cannot tell you how many times we would use this double adjective set to describe the kind of day we were having or the kind of day we would wish for a shipmate: "Have a fine, fine Navy day, shipmate."
During my time as a young corpsman (medic), I had an opportunity to be a part of a Joint Task Force in Guantanamo Bay, Cuba. Today, this area and the day-to-day operations are probably most-immediately recognized by the public as "Camp X-Ray." Between November 1992 and February of 1993, I served a different population. I worked with Haitian migrants who were kept from coming into America for the sole reason of their HIV status. The history of revolt and exodus is the preface to my arrival in Cuba. Three days aboard makeshift boats brought these people to the island well in advance of my arrival aboard a large military plane. This was Operation Safe Harbor. I was a part.
During my three months of duty with this Joint Task Force, I worked in a clinic wherein we provided for the daily care of a large group of Haitians. Many were sick. And they would only become more sick in time. As we monitored T-Cell counts, we saw them drop drastically over a three-month period. We saw men and women battle through their own health issues as they wrestled with policy that kept them from their loved ones granted entry into the United States.
I got to observe the people in our care as they played each day with the soccer balls we would provide them. Practicing. Scrimmaging each day against one another. We learned Creole. Those in our charge taught us phrases we would need to render the most basic of care and they taught us the phrases we could use in friendly banter with one another. We played with the children. We learned songs and shared songs from our radios that played about the clinic space and about the camp. Some of us became the person many would want to see for our heightened sense of bedside manner and approach to people we saw not as refugees but–in time–friends as much as one can enter into a friendship wherein military bearing is still an expectation. We bartered MRE's some of which were more popular than others. The largest "uprisings" occurred when we ran short of the Tuna Noodle MRE. We were there to render care. We cared for them as they waited for the promise of something better than what we could provide given a military budget and the goodwill of the soldiers and sailors who were a part of the mission.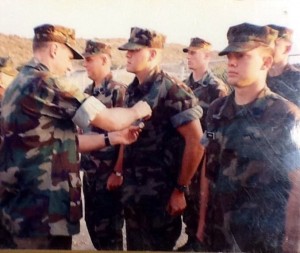 This is me. . .almost a quarter of a century ago receiving the Joint Task Force Achievement Medal for my service during the three month period that I was a part of Operation Safe Harbor.
One of my most fond memories of this period of my military service was the week wherein our people in the camp invited a group of local Cubans to a soccer match. Our men and women had practiced day-in and day-out on the dusty, make-shift field we had just down the hill from our clinic space. They juggled. They dribbled. They worked on passing skills. Often they did this in flip-flops. They would do this from sunrise to sunset. Some were celebrated as the best among the group. They were selected to be part of the team that would challenge the Cubans.
For a week, we worked as a collaborative group. We tie-dyed shirts for the team to wear. We pooled our resources to get appropriate shoes for the team. You'd have thought we were filming some kind of Disney-themed film. And perhaps we were caught up in a sort of Cool Runnings or Ben and Jerry's adopts the Olympic basketball team. We were proud of the people from our camp. We knew what they had come from. We knew what they were going through. We hoped for a good showing and good will from the soccer match to come.
There was a lot at stake here. When pride is the only thing to which one might cling, the task ahead takes on a sense of great seriousness.
And lots of levity. For a week, we saw players demonstrate skills we had not seen in the daily kick-the-ball-around activities. We thought we were seeing a team going for the big cup. And we marveled at the skills shown. We celebrated with our friends.
We smiled. In spite of our origins. In spite of how we all got to Guantanamo. Despite the fact that some of the best players in the group might not be able to play for their health was declining. They sat out. They celebrated their teammates.
They smiled.
They missed their friends and family. We were a poor substitute. They wanted America. They wanted freedom. We thought they couldn't have wanted for more given the donations and the items that we provided that went well beyond healthcare staples. There is always more. There are so many who want for more. Especially when the "more" we provided was surrounded with the kind of fence and a monitored gate not expected of friends in a relationship. Military bearing was still the order of the day. These people were in our charge. I thought we did our very best by them.
My only means of evaluation here where the smiles I would see from the people with whom I was sent to work and to care.
I wish I had one picture of the Sunday afternoon wherein our friends from the camp took on the locals on a field made of an amalgamation of dirt and ground coral.
One picture of the win.
One picture of the celebration.
One picture for the proof.
One picture of the team. . .smiling. . .in victory. Despite circumstance. Despite the Monday that would come. Despite the many more months they would wait for the bigger dream.
They smiled.
And. . .if I wrote their story. . .I would depict them just this way. Smiling as we shared our lament that the Tuna Casserole had run out. Smiling as we laughed at our inability to understand one another clearly by way of the words we would share. Smiling because there is a universal language of care and regard that transcends linguistic barriers.
Smiling as we gave them a ramshackle trophy that we had put together for the occasion. One we would have given them just for playing.
And this is why I have little difficulty with the depiction of a person smiling despite historical context. Despite the time. Despite what the day might bring.
Sometimes, we smile in spite of ourselves.
And other times, we smile so bright, we might wish that we had a picture. To capture the moment. To keep. To pass down. To have now even as I share this story with you. To show the world:
No filter.
They smiled.