I was a father for just over a year on September 11th, 2001. Rushing home from an undergraduate English course, I found my wife and my mother-in-law transfixed by what they were seeing on the television. In real time, in slow motion, and in a web crawl, we were all witness to the events that transpired on that day. 
It was a day we would not allow helpless and hopeless to lie down together with the setting of the sun. Night would bring day. As it had on September 10th. As it would on September 12th. 
In the back bedroom which had been adopted as Noah's playroom, our son was building stacks of his multi-colored blocks. One by one. Taller and taller. As tall as six blocks can stand.
On any other day, someone might have said he was building towers. 
On the Fifteenth Anniversary of September 11th, we find ourselves in a unique situation in the classroom. It is rare to find a student sitting in a desk today born before 1999. And, to date, we have no teacher leading a classroom born after 2000. This kind of generational disconnect will continue for at least the next five to six years at the earliest as we prepare for the first group of lead learners to have been born of the new millineum.
The juniors who sit in Room 407 this year might have taken Noah's place in the playroom some fifteen years ago. And, as the fifteenth anniversary of September 11th approaches, I see his face in each of theirs. And I know that there is no conscious memory of the tragic events presented as a backdrop within the book we are about to share together as our first book in common for the year.
Gae Polisner's THE MEMORY OF THINGS takes us back to the morning of September 11th. As main character, Kyle, is evacuated from his school, he joins the mass exodus away from what would become known shortly thereafter as "ground zero." Crossing the Brooklyn Bridge, he encounters, among the masses, a lone girl covered in dust and ash wearing costume wings. While prompted and prodded to continue on the path of the many, Kyle goes back against the stream, the throng. He goes back to talk to the girl.
She seems to have no memory whatsoever in regard to where she is been, how she got to be here, and where to go next.
And, isn't this the condition in which our young people find themselves today in regard to this event our nation will reflect upon within the next few weeks as September 11th approaches? There's something about anniversies that end in five or on the fives: they invite us look at the rings upon our fingers. . .to revisit our fidelities. . .to take stock in what we have done and how we have grown. . .to count our blessings.
For the young people preparing to read the number of 9/11-themed books this year, there is no singular let alone collective memory of this "thing."
At best, there is probably one account, fueled by the same disbelief, dispair, desparation born of this day that serves as a neo-hinge of history: the days that were before. . .the day of. . .and the days that would come.
Kyle takes the "bird girl" home to his apartment he shares with his family and his Uncle Matt, a police officer/rescue worker in the tradition of his family who has recently been injured to the point of paralysis. Polisner reminds us the chaos of this week by placing Kyle's mother and sister across the country looking for any flight home. Kyle's father, a rescue worker, is a first respondent at "the pile." What might cause a raised eyebrow in any other of a number of young adult novels featuring unaccompanied and unaccountable teens, Polisner's book brings to light the scattering that occurred in and among families and households on the day of and the days that would follow September 11.
This leaves Kyle and the "bird girl" with an uncle who needs assistance with his daily upkeep but has the mental faculties to take in the gravity of what has happened in New York. In the book, we learn more about Uncle Matt, that he was a former memory champion who could memorize the seqence of cards in a stack using a "loci method." Uncle Matt makes connections to the card, to the body, to a feeling. . .to an act. While he fumbles in an effort to finger the cards, he is able to create a sense of story that helps him to remember the values. . .and the faces.
Told over the period of three days from September 11 to the Friday that would follow, Polisner brings us a story ripe for consideration of the Hero's Journey during a week where being a hero meant doing something as simple as helping a neighbor to something as patriotic as hanging a flag in a prominent place as honorarium and reminder. Heroism is being the person we are supposed to be. Heroism can mean helping another person to remember who they were so that they can continue on to what they might become.
Poliser's story is a coming of age story as much as it is a trial by fire. Kyle and the mystery girl must heed a collective call to adventure that had no precident. No protocol. Two teens thrown into a circumstance they share with a nation but must navigate as novices.
Is is okay to fall for someone who cannot remember why there wearing wings? What is it that we need to remember, first, when we have no memory of which to draw or speak? What is our ultimate responsibility to family when we are not quite sure of the ultimate path our own lives are taking or will take? And what is our response when those close to us have lost those close to them?
These are questions raised in Gae Polisner's THE MEMORY OF THINGS, a book I have read through: once for story. . .twice for theme. . .three times for Hero's Journey. . .and a fourth time for the placement of connective readings and multimedia shares during our shared experience in Room 407.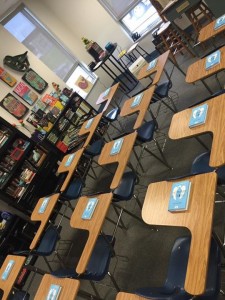 What I have found, after four readings, is that Gae Polisner's book will become an account of the week that many of us reflect upon each year. We can agree: we–as a pre-2001 group of young adults and adults don't want this event limited to a paragraph in a history book that might get smaller with each passing year. Ground Zero has been reborn as Freedom Tower with a new memorial. The gleaming tower defies gravity once again as the ground continues to be a grave for those who grieve without closure. Here is a place of definitive humanism: comprised of hurt, hope, and healing.
And this is one of the ways that Polisner's book shines. It puts the reader during. It delivers the reader into a place in history that we reflect upon tenderly as though we are checking the edges of a scab to assure that new tissue is indeed taking hold.
THE MEMORY OF THINGS places two characters in the midst of a chaotic event–a timeless theme. But the book also invites THE ME into a time. . .one that might only exist in the reflective realm for our young people.
September 11th, 2001.
So, here is a window. Here is a mirror. These were your people. This was your brother, your uncle or aunt, your grandparent. Your mother. Your father. This was your country. In the time wherein our nation was not part of a timed-test but tested by time itself. With each passing hour the answers to questions we wanted and did not want were delievered in both despair and deliverance. On a day not much unlike the sunlit day we might have woken up today. There were things we could not have known. We were all just making it up as we went along that week. Heads that were suddenly lowered began to rise again as though following Old Glory rising up a pole. Many of us returned to conversations with our god that day. Many of us renewed our vows to take stock in the life we had been given. Many of us made up for the time that we had been lax in our expression of patriotism and our recognition of our neighbors. Candles were lit. Porch lights lighted. From smoke and ash came a light as old as time itself. A fire. A glowing of the human spirit for which evil has no damper.
What the adults who share this book will find is how we had all become Uncle Matt. Temporarily-paralyzed by what we were seeing. What we could not find the words to explain. We wrung our hands. We may have shook our fists at an enemy we could not name let alone see. Or we held them up to heaven in supplication as if to ask "why" without a sound coming from our mouths. We had to learn once again how to use our hands to do the healing work. We remembered our values. And we saw faces and recognized those who hurt. And those who needed help. The brain remembers the connection between hand and heart and the two elements of humanity begin to take shape again: story and service.
That we get to read this book during a time of great political and social divide is so important. And this is not to devalue the events of September 11th, but we are standing–as a culture–upon a pile of discontent made manifest in a divisive discourse. Reading Gae's book and watching as Kyle, "bird girl," Uncle Matt, and Kyle's father find the ability to reflect, resolve, and repair is as important to the characters who find themselves in a world turned upside-down as it is to to a culture that finds itself going sideways.
What we might want today's readers to come away with is the idea that where our feet point toward the feet of another. . .where our hands reach out in invitation or embrace is our new "ground zero." The ideas we grappled with were and are the same that have helped us to grow in the fifteen years since.
Where we might be tempted to focus upon the feelings, we might–instead–feel with a focus. That feeling that we can be of service. . .of value. . .to others in need. The one thing we can do when there is nothing we can think to do is to serve. To help. As the old saying goes, "This is love with its work clothes on." We are all first responders in the idea that we are all here to walk one another home.
Winged. . .or grounded. . .or both.
As we prepare to share Gae Polisner's THE MEMORY OF THINGS in Room 407, we will revisit the memories of many things related to 9/11. I, for one, in the room, will reflect. But we will all take a moment to remember. A collection of picture books, essays, poetry, and song will help us to accomplish this. But Gae's book will be the anchor of all of our efforts to bring into the room the events that will give the larger public pause as the anniversary approaches. And I couldn't be happier for the readers in Room 407 that we will have the book, the moment, and the memories that will come of interacting with this caring, compassionate young adult author. THE MEMORY OF THINGS is an important book. We'll want to get this right.
On page one, we return to the day. . .to the scene. We are walking to the bridge. We are about to meet a mysterious "bird girl."
We're building with THIS book. With books: story upon story. We building a memory upon a thing that happened. Once upon a time. Before our time.