"Decide How Words Will Look on the Page" is the invitation from page 124 of Amy Ludwig VanDerwater's Poems are Teachers: How Studying Poetry Strengthens Writing in All Genres. April Halprin Wayland provides the mentor piece here with "Morning Dog."
As a part of a category called Writers Play with Language, it is important to note that part of this play is how the words take shape on the page. This includes line breaking. What I really like about this mentor piece is what both the poet and the curator of the poems within the book have to say about line breaks and their intention. What they do within the piece and what they invite from the reader by way of pacing and moving through a poem.
Both poets here offer the "reasons" for the line breaks and what these small interruptions mean to them. This page could be a quick mini lesson in line breaking that we might miss in the classroom. And we miss it, young writers are missing it as well.
I've always tried to be as thoughtful as possible about what is happening on THAT line. Is this where we break? What is the line able to do know within the whole of the poem? What is the line able to do all on it own?
For this piece, I am going to break from the norm here to do a cento piece based upon the "letter specimens" created by James Castle. This will be a kind of cento but will definitely push what it means to use the letters of others to inform our piece and how that piece will appear upon the page.
In order to create this piece, I need to go find a specimen with a lot of Ss. This should not be too difficult. Or maybe we'll just find something too cool to not play with. . .
Let's see what this looks like.
Materials:
Paper
Cardboard
Page from F&G
Lead Pencil
Decoupage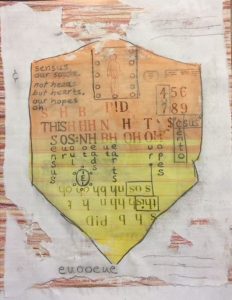 "Sensus"
sensus
our souls.
not
heads
but
hearts.
our
hopes.
"Sensus"
sensus
our souls.
not
heads
but
hearts.
our
hopes.