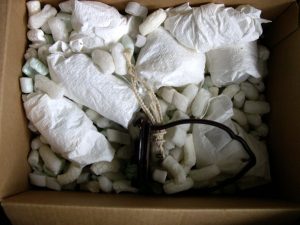 Naomi Shihab Nye invites the would-be poet/writer to Let Your Title Open the Door within the section, "Writers Select Titles" in Amy Ludwig VanDerwater's Poems are Teachers: How Studying Poetry Strengthens Writing in All Genres.
Of course, I must take pause to recognize the poetic gift that is Naomi Shihab Nye. I got to meet the poet in Nashville, TN during my first NCTE conference. She was warm and gracious. I have kept her books in Room 210 and Room 407.
Titles are important in the secondary classroom. We invite our students to title everything they write over the course of the year in the hope that this writerly approach will follow into the standardized tests they will take at the end of their junior year.
In Naomi's poem we see how the title becomes a sort of "ghost line" to begin a free verse poem exploring the doors in the narrator's life
When I Open the Door
My mind welcomes me, huge room–calm down step inside.
Naomi's doors become paper portals through which a writer enters when opening a notebook which provides an opportunity to explore extended metaphor and reveal as mini lessons in craft.
Using Naomi's model:
"When I Wring The Wadding" (From Soot & Spit: The Life and Art of James Castle)
My hands express the colors I cannot make myself.
The world is revealed in the water I wring by hand,
it's like holding as a lake might hold a sunset reflected–
this wadding has absorbed a single day's passing over.
My hands are wet with the shade I hold but cannot name.
I have no words to describe how it feels to have color
drip through the same fingers that have raked through dust.
This is the same water that whets my mouth that settles
into the wadding that marks the page like offering a soft kiss
that pulls away leaving a mark of ethereal affections.
Who wouldn't want for the wringing now of the wadding?
To hold heaven in our hands, and pressing it to paper
to reveal the origins of the making and the seeing,
knowing that this is good. The work is good.
Every day, the wadding becomes swaddling wrapping
around the want to keep it safe and warm.