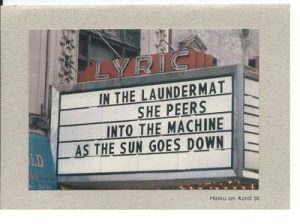 I think it happens every April. Jumping into National Poetry Month with fidelity and excitement and then hitting a period of fallow and of enervation. It must come of everything April brings with it as far as school is concerned. Everything of a school year that culminates does this in late April and through May. In fairness to students completing their multigenre projects, I backed off of the daily poems for a week and helped with consultations. Family activities have also drawn upon time that I might spend writing these dailies. What to do?
Inspired by Sydell Rosenberg's collection of haiku, H is for Haiku, and interactions with her daughter, Amy Losak, I thought, why not fill in this empty place with a series of haiku for the James Castle project. I already have a little "book" that I made for the project in prototype and now I can use that little book to hold this little series of haiku that will bring me back up to speed with the month and the eight poems that remain for the month.
I'm excited about this little series because I had made a little "book" out of a carton of cardboard cubes I had found some time ago at a Goodwill. I had wondered about putting short form poems in this little "book" and I found the solution to a problem and a problem and a problem. By playing in prototype, I am closer to the finish of my "Soot & Spit" project than I might have originally thought.
1.
meaningful mixing:
muck.mouth.material.
manuscript. . .me.
2.
a stiff, sharpened stick
to stir. then silently scratch
to share my story.
3.
this small envelope
carries a world within
sealed: their spit. my spit.
4.
these must be letters
arranged neatly in lines;
i try to make mine.
5.
in this wooden shed,
the works of the quiet one
speak now in volumes.
6.
the days of soot & spit
are ones spent in narrative:
I write with/am sun.