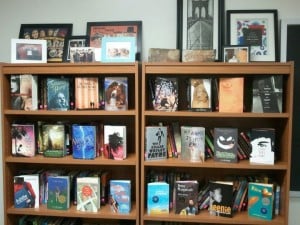 Room 407 Bookcases on an Organized, Waiting-for-Readers Kind of Day (probably taken before 8AM)
In their 2013 title, CREATIVE CONFIDENCE, authors Tom and David Kelley include the voice of author, futurist, and game designer Jane McGonigal. The Kelleys offer that in the video game world, "the level of challenge and reward rises proportionately with a gamer's skills" (47). Further, the next level of the game is "never completely out of reach" (47).

McGonigal calls this desire to progress through the game "urgent optimism" and defines this condition as  the desire to act immediately to tackle an obstacle, motivated by the belief that [one has] a reasonable hope of success (47).

Isn't this the condition we want for our readers? Perhaps we just hadn't put a name to it yet. "Urgent Optimism." Here is a term we'd probably like to see on a report that preceded any student who entered into our room for the new school year. It might read like this, "Pete has strategies, goals, and interventions in place for his Urgent Optimism. Chief among these goals is for the host teacher to be sure that book talking is part of the daily language. We find that Pete does best with the T.A.R.G.E.T. interventions as  coined by Dr. Teri Lesense.

Trust Pete. Allow him to make informed decisions and choices regarding reading selections.

Pete needs Access. To books. Lots and lots of books. Urgent Optimism in reading is fueled by them.

Respond to Pete when he talks about books with you or requests a new book from you. Talk to him.

Guide Pete toward increasing levels of complexity and challenge when he and/or the both of you sense that he is ready for a new challenge.

Be Enthusiastic about books and reading as Pete seems to thrive in this kind of atmosphere.

Be sure that Pete has plenty of titles that have authentic Teen Appeal; Pete is a teen.

With these strategies in place, we feel confident that Pete will be able to retain this condition of urgent optimism. Our concern is his dual diagnosis of Passive Opt-Out."

We're not going to get a report like this at the beginning of the year, are we? But many of us will immediately recognize the shadow of urgent optimism. It's passive opt-out. At the beginning of each year, we have conversations about reading on the very first day. It's the day that students are just getting to know his or her new teacher. They are openly-guarded to the new experience.

And they will tell you anything if you would only ask them. They will tell you about how they "survive" reading management programs (and they will tell you his or her strategies for this survival). They will tell you with a sense of ironically-detached achievement how many books they have read since their 8th grade year.

Ladies and gentleman, when you are inviting students to read 40 Books within a school year, and 75% of your classroom has come to having read fewer than five or six books–independently–within the past two years, you will want to be able to name that sense that you are tapping into. . .urgent optimism. You'll rebelliously abandon the  the reading management program that has helped in creating this passive opting-out. You'll begin putting books into the hands of readers on the very first day of class.

And you'll remember. You have a school year to get these kids to want to read because you know that the resistance is a kind of quiet dare. You've seen the symptoms of passive opt-out before. The leaning back in the desk. The arms crossed over the chest. The way the head kind of falls back from its midline and take a angled position left or right.

You invite, "Read with me."

They respond, "Try and make me."

Eighty-nine class meetings is what we have left now. Eighty-nine opportunities to come into the room together to talk about books. To share books. To be book people. I cannot make them read. But I can lead them to begin to discover that they do–in fact–want to read.

Because I have learned in ten years I don't make kids read. I make kids readers. It's systemic. From the language I use to the dogged and daily persistence that says, "It's our room, but it's my practice. I'm going to talk about books. And we will do this read-aloud today. . .page one. . .'I've lost my hat.'"

I'm urgently optimistic that the students I met on Thursday and Friday will return on Monday and Tuesday. Our work has begun.

And I have a reasonable hope.

And a T.A.R.G.E.T.