First, a disclaimer:
If you want to learn more about "picture book remixes" and their literacy connections, click on the links found within this post. 
In a well-known TED talk, Kirby Ferguson invites the viewer to "embrace the remix."
In the talk, Ferguson posits: "Our creativity comes from without, not from within. We are not self-made. We are dependent on one another, and admitting this to ourselves isn't an embrace of mediocrity and derivativeness." And this is where I have been for about seven or eight years. Rejecting the notion of being mediocre and derivative. Even if the work I create is derivative. And often mediocre at best.
In the same year that Ferguson's ideas were picked up and shared by National Public Radio, I had started cutting up picture books.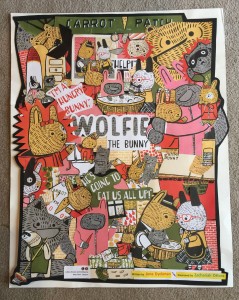 We might as well get this out early before our chat together.
I cut up picture books. From cover to cover until there is nothing left but the case.
Here is a remix of Wolfie the Bunny by Ame Dykman with illustrations by Zachariah OHora. What you see here is what I call a "picture book remix." While the art belongs to OHora and the story belongs to Dykman, the decisions I make in the construction of a remix belong to me.
Here is a link to a full exploration of "What We Learned by Cutting Up Wolfie the Bunny."
In this post created in the same space and time as I was creating the remix, I was philosophically about "anticipatory sets" and how we guide young readers into books.
I was trying to avoid being mediocre by attempting to be "value-added" to my own process. And it felt most derivative.
Perhaps this came from an early idea shared with me that the art I create is not, in fact, my own. If this is true, why are there scraps of picture books all over my creative space? And just who is going to remove all of this tacky glue from the desk that was left to my wife and me by our mother? And why when social media would cry, "Don't cut up that book!" would an illustrator like Daniel Miyares respond, "No. Cut! Cut! Cut!" Miyares's encouragement led to a remix of Float and more lessons derived from having cut up that gorgeous book that, for me, was a reclaimation act of yellow slickers and boats that float away on rainy days without threat of demonic clowns that desecrate innocence.
Dont get me started on red balloons.
Quick Point: It is okay to make and to create. And when someone asks you what you are making and what it is for, it is okay to respond, "I really don't know." Until you know. Which I don't. Some fifty picture book remixes that include Where the Wild Things Are, How Fletcher Was Hatched, Dan Santat's After the Fall and Matt de la Pena and Loren Long's Love, Jane Yolen's Owl Moon, and Ezra Jack Keats' The Snowy Day
Kirby Ferguson affirms what I am trying to do here. . .what we are sharing with you here is not an embrace of the medicore and the derivative. Ferguson says: "It's a liberation from our misconceptions, and it's an incentive to not expect so much from ourselves and to simply begin."
The recent passing of prolific children's literature artist, Ashley Bryan sent me back to look for his amazing book about the puppets he started to create when we was eleven or twelve years old. Bryan was literally picking up elements brought in from the tide and washed up upon the beach to not only create a series of puppets but to craft poetic narrative for each. Having built one for poet, Nikki Giovanni, the poetess was led to regard artists as heroes in every sense of the word.
This is an affirmation that the way I see the world in remix and possibility is something to hold on to. To hug. To not expect so much from myself and to find some portal to play within the work I do each day. Corita Scott Kent called this "Plork," the very portmanteau that appears on my Twitter profile masthead.
To see the world as it can also be. . .through our own remixing and making. . .is something I can embrace. I hope that our time together at #G2Great on Thursday, 17 February 2022, will both affirm and encourage all of us to think of that one thing we could take apart without fear of losing the original form to find something new and novel.
Remix the way we take attendance by marking everyone absent and then consciously and attentively marking them present as they enter the room.
Remix essays from prompt to process to product.
Remix assessments to include cut and paste elements at the secondary level. I loved these as a kid and look what it has led me to. . .I am still cutting elements from the page to find a possible answer to a problem of my own authoring.
I hope you will want to follow or friend after our time together. We are going to share a lot of "remixed" art and talk about possibilities for you and your students. I teach Advanced Placement English Literature and Composition and Interpersonal Communications at Silver Creek High School in southern Indiana. I am really easy to find on the interwebs: @paulwhankins at Twitter and paul_w_hankins at Instagram.
Here is a bonus remix for you. As a push on process and technique, this "remix" was created as a single piece of paper made up from the cuttings from the book. Before it was "glued-down," this whole remix was able to "move" about the surface of my work table. My one regret with this piece as that I did not get an image of the underside. 
Friends, if you remix a lesson plan, get a clear image of the "underside" of that lesson. It will probably look like the standard(s) from which it was built. Now, flip it over and marvel as what you might render with your students.