Taking a short break this morning to celebrate one of the short forms of poetry that often finds students rapping a pencil on the desk for its syllabic counts: haiku. Over the weekend, I got to read Sydell Rosenberg's H is for Haiku (with illustrations by Sawsan Chalabi) from Penny Candy Books. It just celebrated its "book birthday" yesterday (April 10) and is on shelves now.
I got to interact a bit with Amy Losak, Rosenberg's daughter and she has been both delightful and informative about her mother's work and the special place haiku had for her mother and the means by which Rosenberg and others worked to bring this short form to the public attention with projects like Haiku on 42nd Street back in the mid-90s. Impressed by her mother's passion for this short form, and upon Amy's pointing, I can proudly announce:
I am a member of the Haiku Society of America.
As my students continue to work on their multigenre projects, I wondered if this short form would make it to the project, even if it were because of its short nature. The ease by which we come back to this form without really understanding that poetry asks us how big or small a space we need and then gives us a form or a shape to accommodate the need.
Here is how "Purse! Discusses" was created.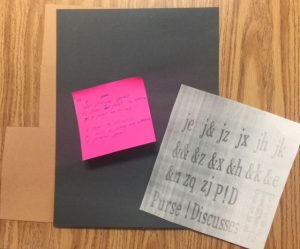 The first step in creating the haiku was the find an image of the "Purse! Discusses" image and to think through my subject, James Castle, the idea of a purse, and what we we might need to discuss. For an inside look at the process, this was really a "shower thought." Then, it hit me. My wife and daughter carry purses. Like shoulder-supported mystery packs, they seem to be like a portal of surprises. But. . .they are never opened unless they want something for which they might have to go all of the way to the bottom to retrieve.
I had it. It was about the going into to retrieve. It was about the wanting and the needing for something.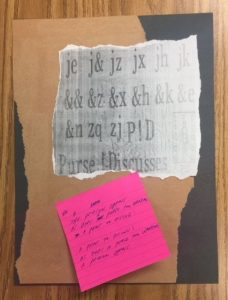 The pieces of construction paper were glue together along with the "swatch" that we printed. To emulate the James Castle style, I didn't want any "clean" edges or to have a suggestion that this was brand new paper we were using. The paper was aged and "thinned" (take the finish off) using a heavy duty lint roller. This gives the paper an old feel with a little bit of texture.
Next, the middle part of the "letter specimen" was lifted off using duct tape to pull the ink from the paper without destroying it completely. I wanted to leave the ghostly imprint of those letters and suggestion of "Purse! Discusses."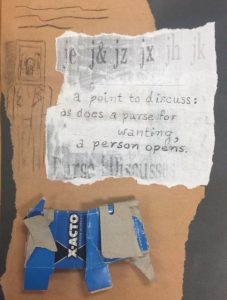 Finally, the haiku we drafted was added to the page and I added a Castle-like construction of an elephant I had folded from a empty staple box last week. The haiku is hand-lettered to fill the space and to emulate Castle's letter series reproductions. I think the construction and the sentiment say something of how a person can open up to memory through writing and through art:
a point to discuss:
as does a purse for wanting,
a person opens