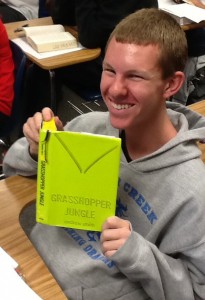 This is Josh. He is reading a book called GRASSHOPPER JUNGLE by Andrew Smith.
This title, released earlier this year, is the Boston Globe-Horn Book Award 2014 Fiction Award Winner.
It's reading level according to the Junior Library Guild and Renaissance Learning (parent company of Accelerated Reader)  is 6.2. The points Josh would earn from Accelerated Reader would be 16. The book is recommended for Mature Young Adults ( this is a JLG designation).
Before I say more about Josh and GRASSHOPPER JUNGLE, let's take a look at what Accelerated Reader has to say about the book:
Austin Szerba narrates the end of humanity as he and his best friend accidentally unleash an army of unstoppable bugs and uncover the secrets of a decades-old experiment gone terribly wrong. The text contains profanity, violence, and sexual stituations.
Fair enough.
But, I wanted to see what Accelerated Reader had to say about the other Andrew Smith titles my readers have read and enjoyed in the past couple of years in Room 407. The title that comes to mind first is Smith's STICK. The first thing I see is that the reading level drops with this particular title, but there is still an RP quiz available. I wanted to look up RP. Here is the description of an RP Quiz as offered by Accelerated Reader in its information provided to parents (a PDF document I am sure few parents have ever been offered to read and to consider):
Reading Practice Quizzes are the most common type of assessment in AR. The purpose of these quizzes is to
determine whether your child has read a book, to measure literal comprehension of the book, and to provide immediate feedback. Each Reading Practice Quiz consists of 3, 5, 10, or 20 multiple-choice questions depending on book level and length. They are available in English, Spanish, and Recorded Voice formats.
Friends, in my experience with Acclerated Reader, these Reading Practice Quizzes are the ONLY type of assessment. For the author. For the book. For the reader.
For the cause.
But it is the description of STICK that causes me to stop again for a moment:
Stick's older brother, Bosten, has always defended him, but when Bosten comes out as gay and leaves home and their abusive parents, Stick sets out to find him. The plot contains profanity, sexual situations, child abuse, and other violence.
My readers LOVE Andrew Smith. We offered GRASSHOPPER JUNGLE as Books and Bagels title last year which culminated in Andrew Smith's interacting with my students in Room 407 via SKYPE. It was a robust conversation about the book, about writing, and about being teachers and students in the room who share books together.
Not because of a level, but because of our love for books.
So, I had to go back to Accelerated Reader just one more time to look at one more Smith title.
Because I was becoming concerned. I read on the Amelia Elizabeth Walden Award Committee. This award has a three-part criteria: literary merit, teen appeal, and a positive, life-affirming feel. This year, one of our finalists was Andrew Smith's WINGER. Here is what Accelerated Reader had to say about WINGER:
Two years younger than his classmates at a boarding school,14-year-old Ryan grapples with living in the dorm for troublemakers, falling for his best female friend, and playing wing on the varsity rugby team. The plot contains pervasive profanity.
Despite Accelerated Reader's treatment of Andrew Smith's titles, the ratings offered by readers do not drop below the highest marks available by those polled after having taken the quiz. Accelerated Reader's treatment of plot, however, does cause some concern as I understand plot to be a description of a character(s) conflict and a sense of resolution. If the plot, itself, contained "pervasive profanity," Renaissance Learning would not print that plot out of prudence, would they?
Andrew Smith's titles, despite their average page count of 375-400 stay at a 14-15 point mark for Accelerated Reader "points" a student might earn for having read the book and having passed the quiz after the reading.
For fun, I went through some other popular titles (based upon the books my Room 407 Readers have enjoyed over the past couple of years) to see what Acclerated Reader was offering by way of page count and points awarded.
Eleanor & Park by Rainbow Rowell
This book was our Amelia Elizabeth Walden Award Winner for 2014. Accelerated Reader offers a 3.8 Reading Level and 11 points.
But here is what Acclerated Reader does not offer by way of including Rainbow Rowell's title within its catalog of quizzes:
A 2014 Michael L. Printz Honor Book for Excellence in Young Adult Literature.
Winner of the 2013 Boston Globe Horn Book Award for Best Fiction Book. 
The Pull of Gravity by Gae Polisner
Here, Accelerated Reader offers a book of Middle Grade interest with a level of 4.1 and 6 points for having read the book and having passed the quiz after reading. Of course, this is an instance wherein Accelerated Reader misses recommending a title to middle grade audiences that–according to its description of the book–has a plot [that] contains profanity and sexual references.
The Pull of Gravity earned the Nerdy Book Club Award Best YA Fiction 2011 distinction.
Pennsylvania School Library Association's List of Best YA Fiction 2011
YALSA Readers Choice Nominee 2011
The One and Only Ivan by Katherine Applegate:
The Newbery Medal winning title earns a 3.6 reading level and 4 points for having read the book and having passed the quiz after reading.
Did we mention that this book won the Newbery Medal?
The Book of Broken Hearts by Sarah Ockler
Reading Level 5. Points for having read the book and having passed the quiz. . .12.
Hole in My Life by Jack Gantos
Reading Level 5.7. Points awarded for having read the book and having passed the quiz. . .7.
But ask my student, Tyler, what it meant to have read this book last year in Room 407 and to have received a signed copy with a personal message from Jack Gantos. Further, ask Tyler what it felt like to have read over 100 books last year coming out of a year wherein, according to Tyler's accounting, he read fewer than three books in two years. Tyler clearly did not like reading.
Here is what Acclerated Reader has to offer to parents who wonder about a child who might not like reading:
Using Accelerated Reader, your child will choose the books he wants to read. The teacher or librarian will make certain the book is at the right level so that after completing the book, your child should do well on the AR Reading Practice Quiz. Success on the quiz will encourage your child to read more. With guidance from the teacher or librarian, and success, even students who say they don't like reading will develop a love of reading.
Do you see what I see?
The teacher and the librarian will make certain the book is at the right level. Seemingly, the student reader and the family have no input here.
Success on the quiz awards points within a point system. In many cases, the ability to pass an Accelerated Reader quiz (or inability) will be reflected within a student's grade for the class. Friends, what point value do you think we might have to assign to a reading program that will assure self-motivated readers will not take the quiz with the knowledge that it will not affect their grade to have not complied with the program's requirements? Think about this. The number of points awarded would have to be of value to the student. Do you see what is being created here?
With guidance from the teacher or librarian. . .guidance is not merely pointing someone in the direction you want them to go. A first-day employee at Wal-mart gets this kind of training in customer service.
And guidance from the teacher or librarian is a part of his or her job description. We–as stakeholders–would pay extra beyond the contracted salary to an outside party to assure our students love for reading?
This post is going long. And I sense that there is so much more to say about the subject of reading management programs that we are not saying here. To talk for a moment to those who might ask, "Yes, but what about titles from the canon? What about the classics?"
Here are some classics–canon and neo-classic style that we offered to the students who participated in Books & Bagels last year in Room 407.
A Lesson Before Dying by Earnest Gaines
Reading Level: 4.4 AR Points: 11 Description: Two black men–one a teacher, the other a death-row inmate–struggle to live and die with dignity. The plot contains sexual situations and violence.
I Know Why the Caged Bird Sings by Maya Angelou
Reading Level: 6.7. AR Points: 13. Remarkable here is the description offered by Accelerated Reader: This sensitive autobiography tells of a Black woman's childhood journey to retain her personal "human dignity."
Not to disparage the memory of a treasured American poet, but why does Gantos not get the same treatment as Angelou in regard to coming through adversity to come to a pace of "personal human dignity?" Further, this treatment is not offered to Stick, Ryan Dean. . .Nick and Jaycee.
Night Shift by Stephen King
This title, requested by the students to coincide with the month of October earns a 5.2 by way of reading level and the most points of any title referenced in this post at 18.
Check the description: "This is a collection of unsettling short pieces, bizarre tales of dark doings and unthinkable acts."
I was surprised that poet Kahlil Gibran (THE PROPHET)and modern-age creativity proponent Sir Ken Robinson (OUT OF OUR MINDS) are not even noted within the available Accelerated Reader quizzes despite the fact that AR markets itself as a service that reaches readers up to the 12.9 reading level. Yet, both of these books stretched our readers within our groups this year to think about creativity. To think through poetry. To share books within a community. These are now our books.
This goes on and on and on.
I want to come back to Josh. I want you to look at that face. It's almost as though Josh knows that he has stumbled upon a book that he cannot believe he is reading. That no one is keeping him from reading it.
He also knows that he does not have to take a quiz on this book. To my knowledge–at the date of this published post–there is no quiz for this book that a student can take.
To determine whether he has read the book.
His friends will know when he sees them again after he finishes. Any reader who finishes this book needs to talk to someone soon after.
To measure his literal comprehension of the book.
His friends won't care about his literal comprehension. They'll want his take on the ending of the book (something we noted during our conversation with Andrew at the end of the year).
To provide Josh with immediate feedback.
His friends will take care of this. Josh has become a part of a small cell group (including his lead reader) who has read a book that has flown under the radar since its release in February.
And why shouldn't it be his reading friends who do–for free–what Accelerated Reader has a set subscription fee?
After all, it wasn't his lead reader who recommended this book to him.
It wasn't a reading management program.
It was his friends.
His friends who read. They are of inestimable value. Their love for books exceeds a need for leveling. They point other readers to books they will read, love, and share.
It makes one's heart skip a beat. . .
as if. . .accelerated somehow.