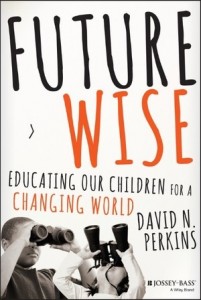 One of the pleasures of being part of Jossey-Bass's Teacher Ambassador group is the invitation to look at and to consider some of the new titles from Jossey-Bass and Wiley. Teacher Ambassadors within the program are invited to select from the Jossey-Bass/Wiley catalog of titles to choose one title per "cycle." In this last cycle, I chose David N. Perkins'  2014 title, Future Wise: Educating Our Children for a Changing World. 
Professor Perkins meets head-on the most challenging question we teachers face within our classrooms: "Why do we need to know this?" The traditional response to this question may be along the lines of defense of one's content area coupled with a pointing toward "the real world" outside of school.  Perkins offers an alternate viewpoint in his book suggesting that if the question has been building within the student and has now been verbalized, it is now within the learning community and it can be discussed. Perkins uses the introduction of the book to explore this question from its "uppity" expression seeing it more as a means of asking, "What's worth learning?"
From the introduction, Perkins invites the readers to go "beyond" this simple question with a framework he calls the "six beyonds." For this reader, the six beyonds were a framework for essential questions that might be explored by a school leadership team as a sort of formative assessment.  In what areas of our schools do we go "beyond" the traditional delivery of instruction and in what areas might we be "behind?"
Perkins makes no attempt to suggest what content areas or the embedded skills within a content area might be considered "lifeworthy learning" but asks the reader to consider this in the following ten chapters. What Perkins does offer is a framework which he calls "quests" from which educators can assess instruction for how it approaches "lifeworthy learning":
1.  Identifying Lifeworthy Learning
2.  Choosing Lifeworthy Learning
3.  Teaching for Lifeworthy Learning
4.  Constructing a Lifeworthy Curriculum
In each of the ten chapters, Perkins comes back to these "quests" in order to discuss a little deeper the idea presented within that chapter.
Chapter 1: Lifeworthy Learning: Where Knowledge Goes in Learner's Lives is the one wherein I did most of my annotating with arrows and underlines, I felt that Perkins draws the reader in to consider the introduction of the idea for thoughtful discussions to come. The groundwork for the book is laid out nicely within a chapter that explores what education is and what education could be. Embedded in this first chapter and found in the following chapters are a series of "Try This" boxes that make Future Wise an excellent choice for book study groups reading independently and then coming together in a group.
In the chapter, Learning Agendas, Perkins extends the metaphor of "soft tires" to describe how material is delivered and how it is received by the students in the room. Here is a quote that struck me as a reader: "Basic education should build expert amateurism more than expertise. The expert amateur understands the basics and applies them confidently, correctly, and flexibly."
Big Understandings was another chapter that held me in the book as the annotating the ideas. The extended definition of "Big Understandings" was a place wherein I wanted to find a learning community around this book quickly.
Perkins goes deeper and deeper into the subject of content area delivery, the "seven seas of knowledge," and the bigger picture emerging from themes expressed when we talk about twenty-first century learning. I come back to the idea that the ten chapters presented here would work very well for a book study group which might explore the Introduction together and then take the course of a school year to consider the ideas presented by Perkins.
For the number of titles I get to read that offer an approach, Perkins's book offers an opportunity for thoughtfulness. There is an opportunity here for readers here to "go to the balcony" to consider deeply what learning is, what knowledge is, and what education can be if we continue to thoughtfully consider THESE subjects before we present OUR subject within the classroom.
A book review should be short, but there is so much to consider wihin this title. My next step as a Teacher Ambassador is to find others to share this title with me by way of reading together and sharing together from the ideas presented in Future Wise.