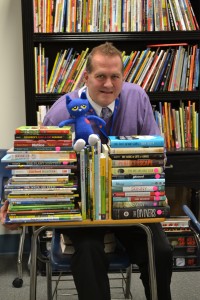 That's me in Room 407. This picture was taken a couple of years ago. This is when we kept all of our picture books in the big hutch you see behind me. Our collection is too big for us to do this. Now, we sort our picture books into crates based upon themes, subject matter–you know–"ladders."
I teach 11th grade.
I teach an AP/Dual Credit Class: ENGLISH LANGUAGE AND COMPOSITION.
This weekend, Pernille Ripp invites us to consider the place for picture books within every classroom in her post: "Why Picture Books? 5 Reasons They Belong in Every Classroom"
Take a moment to read Pernille's post and begin to absorb those 5 Reasons. We might take a moment to list the 5 Reasons and apply them to our classroom practice. Have these treasures been a missing piece for our pupils? Are they an essential piece to our practice?
I met 170 new students this week over the course of the three days that kick off our 2015-2016 school year. Not ONE of these students had seen or heard of Jon Klassen's I WANT MY HAT BACK.
Now, there are multiple ways of looking at this. Of the many, two might be:
A gift to me as I get to be the one to reveal the comic genius of this Theodore Geisel Honor book to a new group.
A good indicator that our kids are missing the good picture books even when they find their way to the big box stores like Meijer, Target, and Walmart.
I read I WANT MY HAT BACK to six different groups. Three new English 11 classes. Three new AP ENG LANG AND COMP classes. The result was the same.
The plain text. The freeze-frame illustrations. The turtle trying to climb the rock. The armadillo who's not in on the joke. The buck at the end who adopts Mr. Hankins's best Jersey voice "Wad's da maddah?"
The red background in the moment of epiphany.
The showdown between bear and rabbit that lasts as long as I hold the book to that opening (timing is crucial here).
The opening that reveals (?) the end result of the showdown between the two characters.
These teens ate up the read-aloud as we might assume the bear has eaten up the rabbit. It's all very familiar to them.
There was laughter in the room with the page turns. It happened right where a Lead Reader who has read the book a number of times might predict it would have come. I WANT MY HAT BACK does not disappoint in this regard. Never has. Never will.
It's a go-to book if one wants to bring teens back to the notion that reading books can be. . .fun. That books should be the treat and not the threat. That books shared have more potential to bring us all together than books shelved.
We had a great wrap-around conversation after the read-aloud. These sixteen and seventeen year olds affirmed for me what we all know is true. The abandonment of picture books can be multi-faceted. The student abandons them to impress the teacher. They are told by someone that they must check out books appropriate for their age and for their reading level. The read-alouds stop. These teens told me somewhere soon after elementary school. This is not a criticism. This is what they told me. By their own account in the room, it had been some time that anyone had read aloud to them.
For fun.
For the pure fun of sharing a book. And sharing a story.
Pernille Ripp gives us 5 Reasons Picture Books should be in every classroom.
I offer four:
Living.
Loving.
Laughing.
Learning.
These Four Corners.
Good Reading!