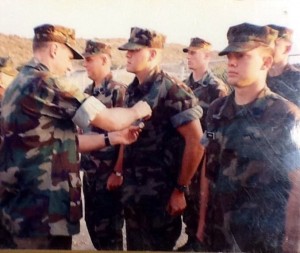 Receiving the Joint Task Force Achievement Medal in Guantanamo Bay, Cuba: 1993
There's been a lot of talk lately about the number of veterans of the Armed Forces who are now classroom teachers and their ability to thwart or stop an attack on our buildings, our classrooms, and our students. There is disagreement within the larger ranks as to whether or not this is a conversation that needs to extend to the arming of those teachers who have received this training while in the military.
I am a veteran of the United States Navy (Hospital Corpsman 3rd Class 1991-1995). I am responding to the call to American veterans to use the training they received in the military for the duties they carry out in their Plan of the Day, Monday through Friday, in their current billets within their buildings. In short, continue to do the fine, fine work you are doing each day through the lesson plans you have created within the classroom to which you have been assigned.
In the interest of full disclosure, I have qualified and have, as a part of my medal and ribbon set, a Navy Expert Pistol Medal qualifying with an M9 while supporting the Joint Task Force at Camp Buckley. I completed this training and earned this medal as I was directly attached to an United States Marine Military Police Company. As their assigned corpsman, the MPs found it somewhat novel that their "doc" was going to fire into an earthen berm with them that day. I followed all of the instructions. I took aim. I did. . .okay. I did well enough to have earned the medal that sits in a memory box in my writing room today.
And I have not held or discharged a weapon since that day. Over a quarter of a century ago.
And, I should probably tell you that I am not the athletic, flexed-forward young sailor you see in the picture anymore. I've gotten a little bit older. A little bit softer. A little bit wiser. A quarter of a century will do that to you.
But, I guarantee you this. I will put the specific training I received in The United States Navy up against anyone who is actively doing the same work today. And, then, you can tell can tell me who does the work with more bearing and attention to detail than the other.
The work that I did while on active duty was so important that to not attend to it fully meant a life. Someone's life. Or the life of someone close.
I have met a lot of lives in the balance between here and the beyond the blue.
Could it be that the assumption-become-narrative in regard to our veterans is that they all receive the training necessary to thwart an attack (the assumption here is that they would have been trained in the discharge of a weapon and hitting a target with accuracy not ascribed to those who do this job on a daily basis) and that this training is directly associated with a weapon-meets-weapon, shooter-meets-shooter scenario?
Remember that for every civilian occupation there is more than likely a military counterpart. The military offers occupations and careers in jobs that include store keeping, records maintenance, medical, and dental, pastoral care, and music (I list these because they are most often missed in the veteran-as-marksman narrative and, for the record, we should be aware that those in some fields are not allowed to carry their own side piece and have a special service person attached to them).
But, I am making a public declaration that I am still responding to the call to use the training I received from The United States Navy in the day-to-day operations of the classroom to which I have been assigned.
I hear you. I sense that I am one of many who hears you calling to veterans to respond within their current assignments. But, you need to know who many of us are.
Room 407. Crestview Hall Room 203. These are my duty stations.  I am–as I was in active service–TAD (or Temporary Active Duty). This means that I can move from room to room attaching myself to those areas that need or require my services.  While on active duty, I would move each day from room to room checking in on and providing direct care for active service members or their dependent loved ones. Later, I would share my talents between the clinic at Lemoore Naval Air Station and the squadron bay of VFA-137 as an aviation medical technician.
That's right.
I'm a caregiver. By way of choice in selection of the school I attended and the training I received. I received the best training one might receive not only by way of the schools offered but by being on the floor with some of the very best young nurses and doctors assigned to now decommissioned and demolished Naval Hospital Oakland (or Oak Knoll). I trained on a cardiac step-down unit until I found that I hit my saturation point for reading telemetry and monitoring vital signs of those who would recover from coronary bypass surgery to return home. I excelled in looking at hearts by way of how they beat in pulse and what this looked like on the screen. I earned Corpsman of the Month status quickly and my picture was on the wall as one walked onto the ward in no time at all. I was poised and polished to complete the assignment at my first duty station and sure to earn advanced training when those duties were completed.
And then, an epiphany came to me.
Against the advice of everyone, including my commanding officer, I requested transfer from the easily-monitored and maintained 9 South to the ward across the hall: 9 West.
9 West was a medical surgical unit. For those unaware, this is a ward wherein one can see anything and everything by way of the human condition. Dependent-heavy by way of population, the cruel name given to this ward that sat on the highest floor of the hospital was "The Stairway to Heaven."
I had to be there. I had to be a part of what was happening. I had to see for myself.
And, you know, I did not have to wait long for the necessary "trade" from 9 West to volunteer to come to 9 South. In fact, there was a waiting list to take my spot. Those who worked on 9 West were happy to see me come over, but I could always sense their wonder that I would give up a spot sitting and watching telemetry monitors and printing off EKGs to sit with the sick and dying of anything you might imagine when you think about the sick and the dying. In the months to come, I would get on the elevator to leave the hospital exhausted from what I had seen and done that day. 9 South was always in clear view. Never in the rear view. Always at my side in periphery.
Among the things I saw and was a part of while attached to 9 West include:
Preparing the body of a mother in advance of her children arriving (they were outside of the policy for distance and response time). We prepared that body with compassion and dignity and no one in the room knew that there was a body bag at-the-ready for when the last goodbye was said. I will never forget the practitioner who had come in earlier to wiggle the toe of this woman deceased in front of his trainees; my mission in that moment was to afford her a greater dignity than that of one who couldn't take the time to assess the situation before attempting to make small talk.
Sitting in on a final conversation between a young black man dying from complications related to HIV and his sister who had never been able to come to terms with his life or his condition. He and I had sat together for a few days before this moment and during each of these meetings, I thought back to the Haitian people I had worked with in Guantanamo Bay. I never got to see the end of that story. It played out for me upon my return to the mainland. On 9 West. That last afternoon, our three hands were held together as he told her that he loved her. And she returned this love back to him. I will never forget that my hands were a conduit for the fullness in the expression of love finally given and returned. 
Rendering care to an older black woman who said nothing to me for weeks as I provided some of the more simple and some of the more intimate elements of care one might render for another (this includes feeding and bathing and seeing the pieces of her that were reserved for the young man in the army uniform that sat on her bedside table). The day before she died, she spoke the only words I heard during our time together. She promised to have me over to her house for a chicken dinner when all of this was over. I have come to believe that we made some kind of peace together that day, both of us archetypes for something both of us needed to work through in order to come to the table together. Whenever I think of the symbolism of two characters sharing a meal, I think of her. And I want for that chicken dinner. 
These are the ghosts of Oak Knoll. And they are not the only. There are many more stories like these. Some on the surface ready to connect to some book or lesson we are reading or doing in the room. They do not announce themselves. They seem to come without warning to the surface. I do not bar the door to them. I meet them in my mind and I assess their presence for what they have to offer to the deeper understanding of our topic of the day.
I didn't wait for the call  to use my training. Theses stories and others were at-the-ready for sharing from day one.
These are stories that could have only been drafted had I been trained in the skill and art of rendering care. This includes my being a technician by trade. I can take and read vital signs. I can monitor and maintain stability for the patients in my charge. I can take notes on changes in condition and report the concerns that are coming from those assigned to me.
I am aware of the necessity for positive rapport with my charges. This asks that I listen as much as I speak. To receive a patient report is to listen in to what is not being said as much as what is being said. One takes in all of the voices at the bedside to draw a more accurate history of what was before the person came to be in the room. Expert care and maintenance asks that everyone at the bedside is involved and valued for their part. I can accept those things over which I have no power and I can adapt to make a moment better for what we bring into the room together.
And. . .we're always taking notes. Notes become the narrative.
So, I am responding to the call to use the training I received so many years ago from my military service. From the regions to the rooms. From policy to person. From the books to the bedside.
From the men and women who stood with me in ranks sides by side to those men and women who become part of a memory set.
From heart to heart.
I am a veteran.
I am a teacher.
I am a veteran teacher.
I am a model of the alternate narrative of military service and what pride in a mission accomplished looks like.
I am a keeper of records as much as I am a collector of stories.
I will not miss muster come Monday morning.
The mission is far too important.